"My creative vision has evolved with a blend of elegance and sensuality, combined with my love for bold design, to create unique images that range from the seemingly mundane to the abstract and conceptual, for the Advertising and Travel, Leisure and Luxury markets. My blend of Fashion, Beauty and Fine Art Photography diffuses the line between personal and commercial work to create compelling still and motion visual stories, and I have fun doing it!"
Even though I usually photograph relevant men in the arts, sports, celebrity/entertainment and business, executive/corporate environments, I spend most of my time working with women.
I photograph women for fashion & beauty editorial advertising projects, plus women in the leisure & luxury industries for different brands, marketing their products and services. I shoot portraits of women, trying to capture their essence as well as trying to unfold their personal enigmas! I photograph women for my personal work.

I live surrounded by women, even in my personal time, as life and the universe have granted me 3 fantastic daughters and a wonderful wife, so my daily life is constant browsing of the female spirit!!

I am obsessed with grace, elegance, and sensuality, especially when women allow me to expose their inner strengths and feelings. This is why I love it so much when I am hired to use my personal work as a guideline to shoot commercial projects!
If there is something that has always been part of both my personal and professional life is the fact that I love a challenge, getting out of my comfort zones, and using creativity to explore options and alternatives.
I spend part of my free time practising Taichi, doing early morning Meditation and Yoga as cool and necessary processes to stay healthy and improve my creative process.

- I have been listed, for the third year in a row, as one of the Miami Top 20 Portrait Photographers, after a careful evaluation of 155 professional shooters, by the California Team from Expertise.com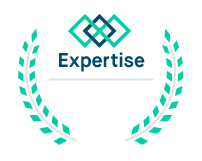 Best Portrait
Photographers
in Miami

2018
More recently, my Company, Jorge Parra Photography became part of the Top Advertising Agencies in Miami 2022, sponsored by DESIGN RUSH

- Also, I was recently interviewed by CANVAS REBEL Magazine Miami, an invitation-only publication, to talk more in-depth about myself, my origins and my vision. You can read the entire interview at the original link
https://canvasrebel.com/meet-jorge-parra-commercial-and-fine-art-visual-artist/
I have also been selected to be part of the Light Leaders in PhotoFlex, to keep sharing the info gained by experience and help others improve their photographic craft.